A detailed analysis of the market environment is essential prior to setting up a new business. Mixing Flavours will be able to acquire high profit margins through understanding the needs of its target audience and delivering superior quality service. In this study, the focus will be on exploring certain theoretical frameworks in order to examine the competitive environment of the new business.
Analysis of the Competitive Environment
In the UK market, the food industry is rapidly growing due to increasing consumer market demand. According to Porter's five forces model (as depicted in figure 1), the bargaining power of suppliers is relatively low in this particular region. It can be claimed that firms can easily approach other suppliers due to low switching costs.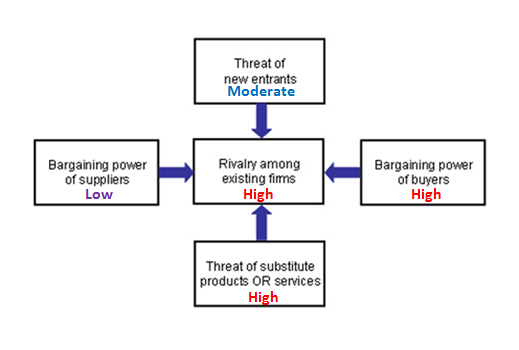 Figure 1: Porter's Five Forces Model
The bargaining power of customers has drastically increased due to wider availability of food products. Precisely, customers have a demand towards innovative and tasty food items. Low switching costs have triggered bargaining power of buyers (Harris & Moffat, 2012).  Threat of substitutes is comparatively high because every new business entering into this market segment is inclined towards product differentiation. In the UK market, threat of new entrants is moderate, due to initial start-up costs and strong position of existing players (Fraser, Clarke, Cade, & Edwards, 2012).  Arguably, competitive rivalry is high in the UK, and particularly in Nottingham due to presence of food trucks.  There are different food trucks present in this location, offering pizzas, street food, Mexican food, seafood, local flavours, etc. Some highly available food trucks are Dolcino, Bare Bones Pizza, The Meat Shack, etc (Yelp, 2017).
Get
a brand-new guide
on essay writing
Everything you need to get A+ this semester!
The download will start within seconds. Good luck!
Download
The main competitive advantage of Mixing Flavours can be evaluated through conducting SWOT analysis.
Strengths
Weaknesses
●                Mixing Flavours will be offering three kinds of international food

●                USP – home country food

●                Firm's operations will be dependent on wider target audience

●                Low operating costs

●                Technological integration to keep a track on the food truck's location

●                Sufficient time will be required for brand image development

●                Broader knowledge base about international food

●                Focus towards freshly cooked food will increase overall lead time

Opportunities
Threats
●                Growing population of international students in the UK

●                International tourists can be targeted who prefer diverse cuisine (Abad, Cherrett, & Holdsworth, 2015)

●                Extending food offerings

●                Entering into new geographical markets.

●                Intense marketplace competition

●                Impact of political conditions on food standards and regulations

●                Weather conditions, such as floods, storm, etc.
Market analysis can also be conducted with the help of the PEST framework. The UK is referred to as a constitutional monarchy which is highly influenced by the parliamentary system. The political condition of the region is stable. Food truck business is affected by distinct economic conditions. The average expenditure of students in the U.K. market has been portrayed in figure 2.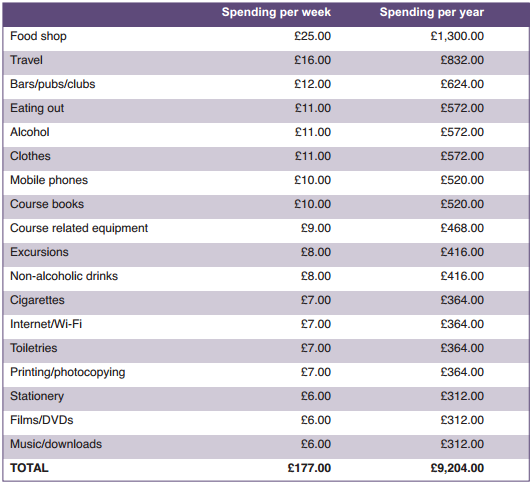 Figure 2: Average spending of U.K. based students
(Source: NEF Consulting, 2013)
As per the given statistics, students allocate a major portion of their disposable income to purchasing food products. Hence, favourable purchasing power conditions would drive the new business idea. The societal culture of U.K. is centred towards consuming ready-to eat tasty and healthy food products. Majority of students residing in U.K. are not natives and prefer purchasing street food. Technological advancements in U.K. have eventually led to development of various apps, making it easier to track location of nearby food restaurants and food trucks.
Conclusion
From the above analysis, it can be concluded that there are opportunities prevalent within the UK market which can be effectively explored by the firm. The intense competitive rivalry can be addressed through laying more emphasis on their USP.
Essay writing service:
Excellent quality
100% Turnitin-safe
Affordable prices
Did you like this sample?
Abad, A. V., Cherrett, T., & Holdsworth, P. (2015). Waste-to-fuel opportunities for British quick service restaurants: A case study. Resources, Conservation and Recycling, 104, 239-253.
Fraser, L. K., Clarke, G. P., Cade, J. E., & Edwards, K. L. (2012). Fast food and obesity: A spatial analysis in a large United Kingdom population of children aged 13–15. American Journal of Preventive Medicine, 42(5), e77-e85.
Harris, R., & Moffat, J. (2012). Is productivity higher in British cities? Journal of Regional Science, 52(5), 762-786.
NEF Consulting. (2013). Student contributions to the UK economy.
 Yelp. (2017). Top 10 food trucks in Nottingham.