Best Podcasts for College Students to Binge Listen in 2023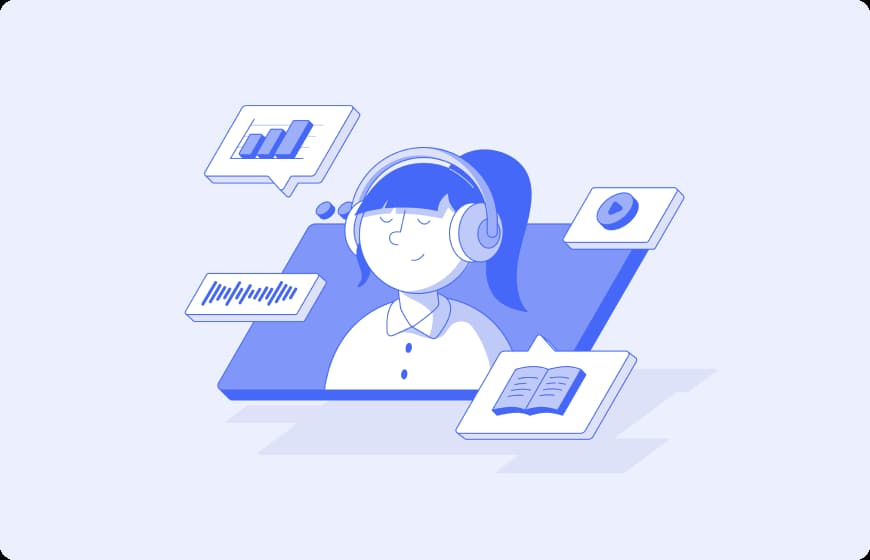 Listening to podcasts is a great way for students to hear about interesting topics from various experts. You can gain knowledge that can't be found in books by listening to qualified professionals of the highest caliber who are willing to share their insights. Podcasts are also among the top entertainment options for enjoyment and brain stimulation.
Put on your earbuds and tune in to the latest episode as you make your way to class, exercise, or fold your laundry. It doesn't matter if you're getting your feet wet in the podcasting industry or if you've already listened to countless episodes and are seeking to learn something new; this article has plenty to offer you.
Podcast Streaming Sites for Students
Podcast publishing platforms facilitate the easy distribution of your podcast. In addition to storing your episodes, a podcast host allows listening platforms to download and share newly published materials. Although you can use your website to host and distribute your podcasts, setting one up requires more effort. To assist you in making the best choice for listening to podcasts, here are the top 5 free podcast streaming platforms for 2023.
#1 Anchor
Anchor's extensive set of features and functions is especially impressive, given that it is free. The platform is user-friendly for beginners and offers a fairly simple user interface. Both mobile devices and desktop computers are compatible with it for on-the-go podcast listening. Anchor's seamless connection with Riverside means you can now watch the accompanying visuals for your favorite podcasts as you listen.
#2 Google Podcasts
Google Podcasts is a solid choice if you're too occupied to consider which app to use. It simplifies subscribing to podcasts and listening to them without requiring a subscription. Additionally, it makes intelligent recommendations based on the content you follow and might find interesting. Unfortunately, there are better tools for browsing different possibilities because this one can't categorize episodes by seasons and because, ironically, its built-in search is unreliable for a Google app. There is no opportunity to search for episodes inside a podcast series, and it frequently produces erratic results.
#3 Pocket Casts
This option has a ton of functionality yet is simple to use and intuitive, and most importantly, it's free. A user-friendly interface makes locating the podcasts you seek straightforward, allowing you to scroll through suggestions, subscribe, or listen instantly. You can download episodes manually or automatically by season and watch them whenever you like. It also has all the necessary listening-related features, including speed controls, quiet cutting, a volume booster, and even a sleep timer. For roughly $1 per month, you can upgrade to the Plus subscription, which adds 10GB of cloud storage, more themes, access to a web player, and desktop programs.
#4 PodBean
PodBean is considered the best podcast app because it has unique features. Along with providing options comparable to its competitors, two of its qualities stand out. The first is intelligent playback speed, which can be changed instantly depending on what you're listening to, so you don't need to do it yourself every episode. This is especially useful if you consume podcasts from multiple hosts who speak at diverse rates. The second is the option to participate in live podcast conversations rather than listening to them after they have been recorded and edited. You can also browse through recommendations, buy premium material, and create your podcast using PodBean in addition to these capabilities.
#5 Spotify
Having everything you need in one place is convenient if you already use Spotify for listening to music. However, given that the app doesn't offer intelligent recommendations but lists a curated music collection, the functions are somewhat limited. Additionally, some users can find it challenging to combine podcasts and music in their libraries. Finding the right episode becomes much more difficult because seasons are not clustered. Thus, overall, Spotify is convenient for basic usage because all your stuff is in one spot. But you'll need different software if you require more features or better library organization. Spotify offers the best podcast experience to those unwilling to have different apps for music and podcasts.
Best Educational Podcasts for Students
Educational podcasts are audio tracks of a conversation between a host and a guest speaker focusing on specific topics to enlighten the audience with certain knowledge or impart a new skill. These compressed digital soundtracks are uploaded, shared over the internet, and designed for playback on computers, phones, or digital audio players. An educational podcast allows you to blend passion with priority by allowing listeners to learn new ideas and acquire fresh information and facts in the comfort of their day's activities. Different types of educational podcasts focus on various study fields and areas of interest, such as medicine, finance, history, politics, etc. Here are the top 10 you should consider.
#1 How I Built This
Guy Raz hosts this top educational podcast, where he speaks with well-known businesspeople about how they created successful companies. Founders share their struggles, failures, and lessons learned in each episode. How I Built This is a master class in innovation, creativity, leadership, and overcoming obstacles of all types. It is highly rated as one of the best educational leadership podcasts.
#2 Ted Talks Daily
Some of today's finest thinkers and scientists address important issues and provide provocative ideas on the Ted Talks Daily podcast. The host of Ted Talks Daily, writer Elise Hu, offers various topics, including everything from economics, technology, and zoology to artificial intelligence. In contrast to some of the best finance podcasts, Ted Talks Daily stands out despite not being specifically dedicated to finance.
#3 StarTalk
Neil deGrasse Tyson serves as the host of the radio program StarTalk. It features celebrity interviews, discussion of cutting-edge scientific topics, and entertaining content. The episodes covered include Past, Present, Future: Time with Brian Greene, Cosmic Queries, Thing You Thought You Knew, Slippery Science, Counting Cards and Quantitative Thinking, and more. This is one of the best educational podcasts Spotify has ever hosted.
#4 Radiolab
The podcast "Radiolab" discusses a wide range of legal, medical, and scientific subjects. Latif Nasser and Lulu Miller co-host the podcast. It is one of the most recommended podcasts for med students. Some of its recent episodes include Games (which examines what makes a good game), Cosmos in Verse (which uses poets to examine the history of the cosmos), New Normal (which analyzes what constitutes normal), and many others.
#5 TED Radio Hour
NPR and TED collaborated to create the Manoush Zomorodi-hosted TED Radio Hour. Through a selection of TED Talks and exclusive conversations with prominent thinkers, the TED Radio Hour probes difficult questions and delves into complex themes. It is rated as one of the top educational podcasts for adults due to the depth of covered topics. Discussion topics range widely, with some examples as follows:
Can we maintain our humanity in the digital age?
From where does creativity originate?
What's the key to a longer life?
#6 The Royal College of Physicians Medicine Podcast
This podcast, which Dr. Amie Burbridge hosts, is frequently recommended to people in medical school or interested in the healthcare industry. It is one of the preferred podcasts for medical students because the topics covered frequently correspond to those on college exams.
#7 2Docs Talks
If you're looking for the most recent information in the healthcare sector, you should take advantage of this podcast. The hosts of the 15-minute podcast are medical sector specialists Kendall Britt and Amy Rodgers. The two hosts offer excellent perspectives on issues in the US healthcare system and keep the students informed about medical developments and new industry policies. It should be categorized as one of the top medical podcasts for students.
#8 The Naked Scientists
Christy Smith founded the scientific podcast The Naked Scientists in 2001. A group of devoted scientists is working to get the general public more involved in research, technology, and medicine. The BBC, ABC (Australia), Primedia (South Africa), Talk Radio Europe, and Radio New Zealand all support the program. The Naked Scientists team has received numerous honors, including the 2008 Kohn Medal from the Royal Society and inclusion in the Science Council's list of the top 100 UK practicing scientists.
#9 ArtCurious Podcast
You embark on a historical journey with ArtCurious Podcast to learn about art's complexities and intriguing tales. Its guests and hosts explore inquiries like:
Is the Mona Lisa a fake?
Did Van Gogh genuinely commit suicide?
Why did the Impressionists become so famous?
#10 99 Invisible
99 Invisible is a podcast discussing unseen powers that govern, design, and influence human behavior. Roman Mars hosts the show, featuring almost 400 episodes, including The Divided Dial, Cougar Town, Super Citizens, The Safety Bicycle, Walk of Fame, Wickedest Sound, and more. Roman Mars founded "99% Invisible" as a joint venture between the American Institute of Architects in San Francisco and KALW public radio. From a four-minute radio commercial, it has expanded into a hugely well-liked podcast with global listeners and one of the highly recognized podcasts for students.
Final Thoughts
Students often find balancing school, work, and social life quite challenging. Podcasts offer entertainment and learning opportunities for students seeking a break from school. Tune in to your favorite podcast and enjoy your listening.