Formatting Essentials
An essay is not only about words; it should possess a consistent organization and format, following a single standard of spacing, indentation, and referencing rules. It's pretty hard for the professor to check your paper if you have different fonts or spacing in various parts, change the margins from page to page, and jump from one citation style to another. Thus, it's vital to pick one format and stick to it throughout the entire paper; extra grade points will reward this skill.
Formatting an essay shouldn't be hard if you know all conventions and use one style guide in the work process.
How to Format Your Document
How to work with your text and apply formatting guidelines effectively? Let's take a closer look at the process step-by-step.
First, we suggest using Google Documents to write and edit your documents. The tool is simple to work with, has all the necessary formatting options, and is available offline. In case your connection abrupts, all changes will be saved in offline mode. What is more, you can access your documents from different gadgets and allow other people to collaborate on the project, edit the text, and leave comments.
Second, start by creating a new document. Put the name of the document in the upper left corner to navigate through all your files easily. Now, let's explore the toolbar.
Styles & Fonts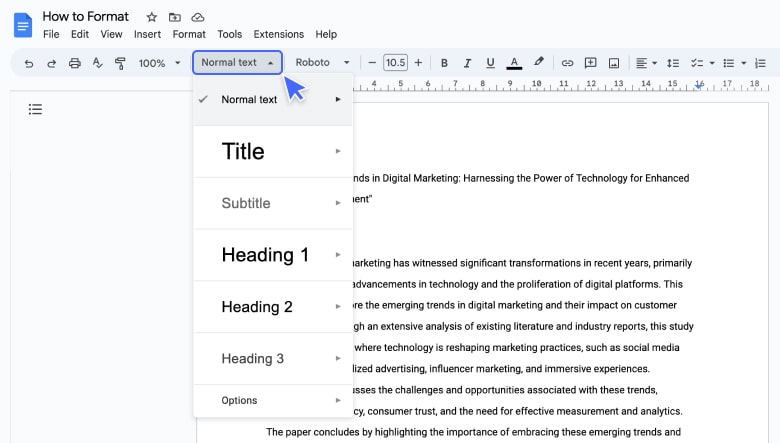 By pressing the highlighted button, you will see the list of all possible styles applicable to your document. The structure includes the hierarchy of headings, title, subtitle, and normal text. You can also explore more options in the respective section.
On the right of the styles, you will find multiple variations of the font and font size. Choose the one prescribed in your guidelines or stick with the standard Times New Roman, size 12. Next to font size are text style options, such as bold, italic, underlined, color, and highlight color.
Alignment, Spacing & Indention
The first arrow in the picture above leads to alignment options. Unless specified in the instructions differently, keep the left alignment.
The third arrow points to the indention. You can decrease or increase the indention by using these buttons.
The second arrow points to line and paragraph spacing. Here are the options for you to choose from, depending on your instructions.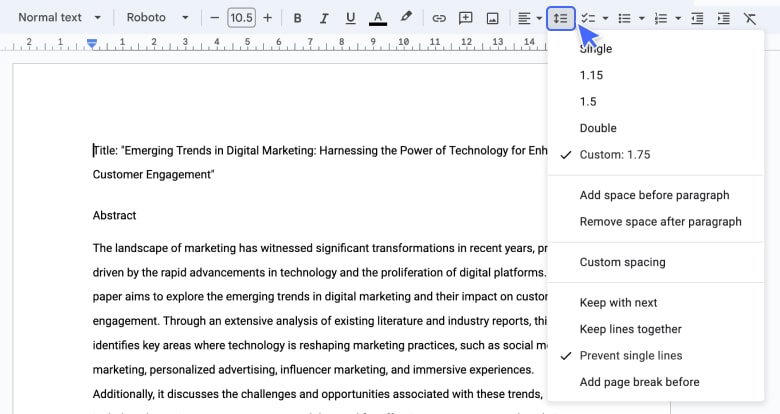 You can also find buttons to create numbered and bulleted lists next to the spacing.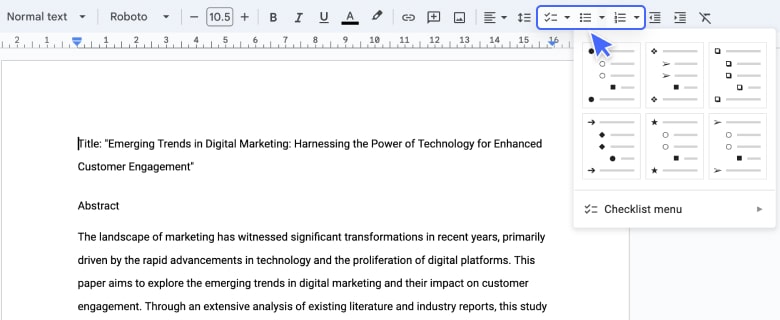 Headers & Footers, Page Numbers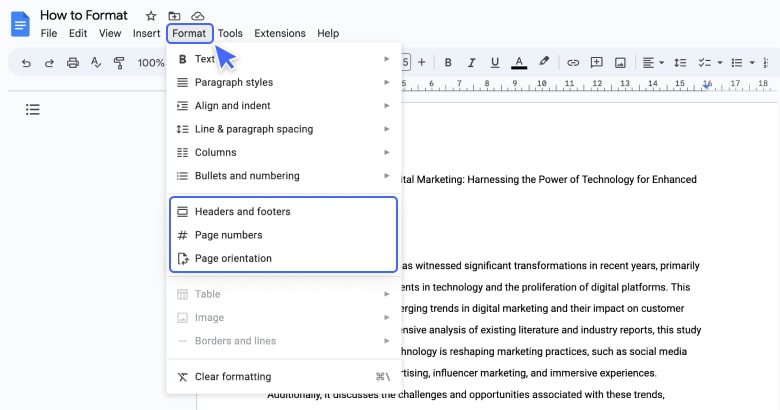 You can all formatting options at the upper toolbar by pressing the button 'Format.' Besides the ones already discussed above, you can also add headers and footers, page numbers, and change page orientation.
Another helpful button is 'Insert.' If you want to add images, tables, charts, footnotes, or any special characters, that's the button to press for.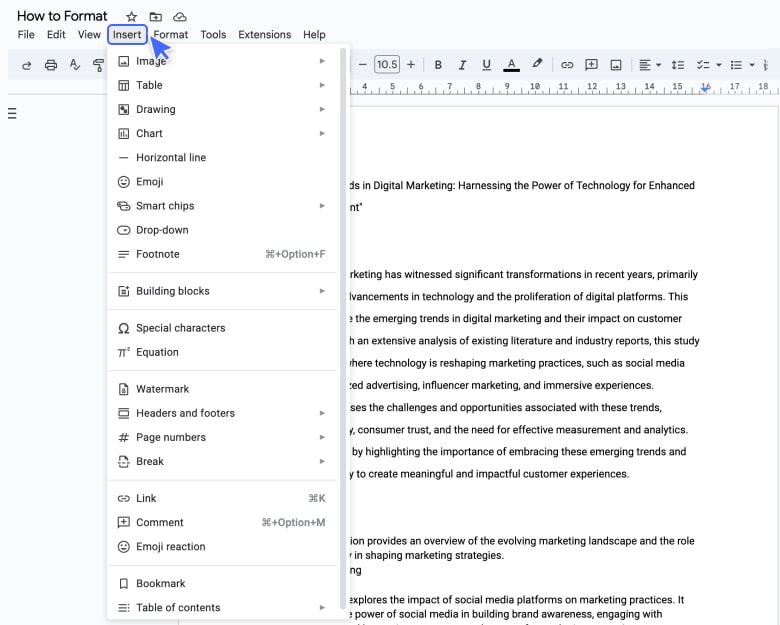 Final tip: to add comments for your collaborators, highlight the specific part of the text and press the button 'Add comment.' You can further see comments from the others and reply to them until the issue is resolved.

Universal formatting rules
1-inch margins on all sides of the page.
Double of 1.5 spacing between the lines.
Legible fonts (Arial or Times New Roman), size 12.
Left indentation of text.
One-inch indentation at the beginning of new paragraphs (though in some styles, it's optional).
Bolded and capitalized headings and subheadings (formatted in line with the citation style).
A separate title page (for all styles except for MLA) – use a handy essay title page generator if you're unsure how to create one.
A separate page with references used in the text.
You're already saved from an F if you respect these basic formatting principles. However, formatting is only half of the visual organization business. You must also ensure that all external sources are cited correctly and in line with the assigned referencing style.
About Referencing Styles
To date, the most well-known and widely used referencing styles are:
APA is an abbreviation for the American Psychology Association. The APA style is a commonly used citation approach in behavioral and social sciences writing. It follows an author-date format of citation, which means you need to indicate the author's last name and the year when the source was published.
MLA is an abbreviation of the Modern Language Association. As its name suggests, this referencing style is most commonly used in literary analysis. It emphasizes the page number from which specific information or quote was taken. MLA urges the students to indicate the author's last name and the page number for direct and indirect quoting.
Chicago is most commonly used in humanities, sciences, and social sciences. It also follows an author-date citation style, though with slight differences from APA. Sometimes you may also be asked to use the Chicago style in History writings.
Harvard is the most popular referencing style of UK universities. It is widely applied in all kinds of writing and comes in many subtypes. Most of them require an author-date or an author-date-page citation format.
OSCOLA is an abbreviation for the Oxford Standard for the Citation of Legal Authorities, created by specialists of Oxford University for post-graduate law students.
Oxford and Chicago/Turabian footnoting styles require putting a superscript number in the text and laying out the full reference of the used source in the footnote zone.
If you're clueless about using the referencing style properly, you can always turn to a professional essay formatting service and have the task done for you by experts. It's always vital to keep your format consistent, as it's a considerable portion of your grade and a savior from plagiarism accusations. Thus, we strongly recommend using bibliography help when you're in doubt or need a stellar-looking essay without flaws.