MLA Style
MLA is also among the widely used referencing styles in modern schools, colleges, and universities. The MLA guide was updated and revised many times, and the present-day standard is laid out in the 8th edition of the referencing style.
It's broadly applied as a uniform referencing format for literary analysis and social sciences works. Its popularity is explained by the simple two-part parenthetical approach to citing sources that even newbies can master. The reference page at the end of an MLA-style paper is called Works Cited; it contains alphabetically organized quotes used throughout the text.
Let's take a look at how the MLA citations look in the text.
ONE AUTHOR
The story was told long ago (Michael 25).
Michael told that story in his literary piece (25).
TWO (OR MORE) AUTHORS
Bradley and Hohn formulated this theory in 1903 (24).
The theory of social belonging was formulated in 1903 (Bradley and Hohn 24).
NO AUTHOR
Alcohol is given a pronounced role in O'Neill's play ("Encyclopedia Britannica" 342).
ELECTRONIC SOURCES
High schools should perform their service center functions better (Weisman).
Sample references in the Works Cited page would look as follows:
BOOK
Taylor, Jennie. Citing Sources in the MLA Style. SAGE Publications, 2020.
ARTICLE
Jameson, Norman and Jessie Tailor. "How Can You Cite Sources in the MLA Style?" The MLA Journal, vol. 3, no. 2, 2005: 25-35.
WEB RESOURCE
"MLA Handbook." Wikipedia, https://en.wikipedia.org/wiki/MLA_Handbook. Accessed 2 September 2022.
As you can see, the rules are pretty simple. You should indicate the author and the source page from which you took the information. If there is no author, use the source's name in inverted commas, and if there is no page, use only the author's name or the source's title. Several authors in one parenthesis should be ordered alphabetically.
How to Cite Sources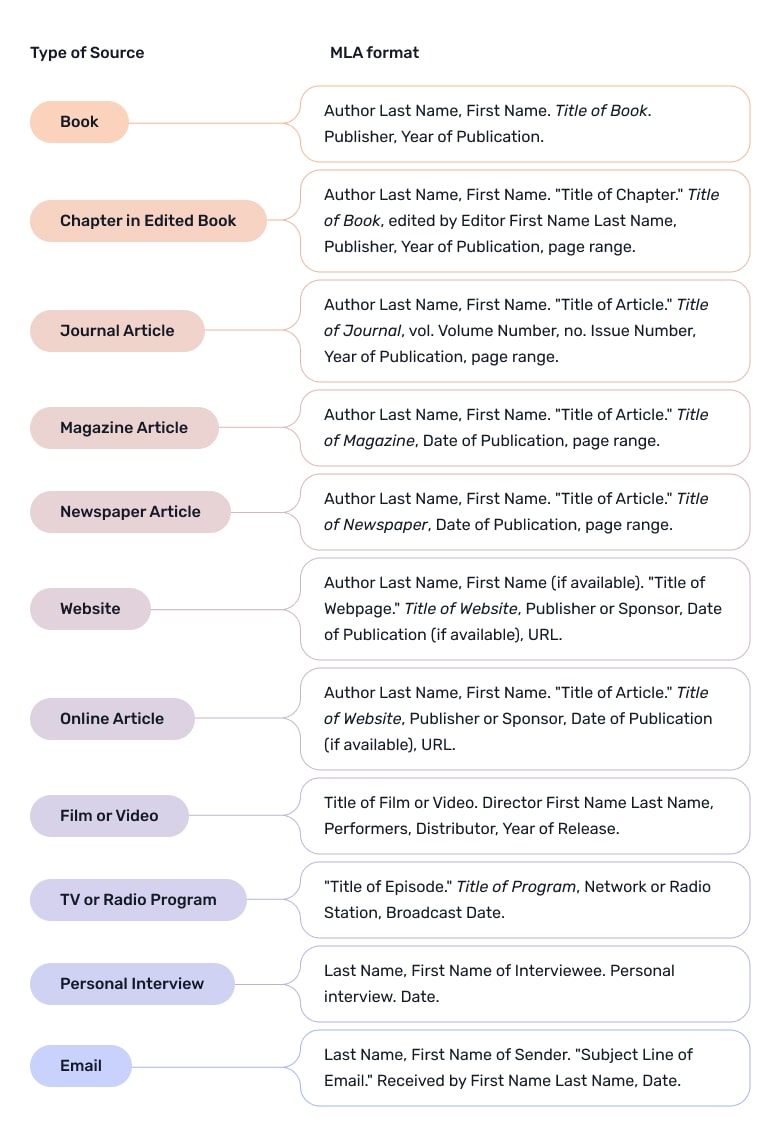 Remember to use appropriate in-text citations and works cited page to reference all sources used in your academic writing fully.
Additional Guidelines
How to actually write a paper in MLA style? Here are some guidelines to help you get started:
Set your document to double-spaced, with 1-inch margins on all sides.
Use a 12-point font (such as Times New Roman), with a readable and professional-looking font style.
Create a header with your last name and page number in the upper right-hand corner of each page.
Include a title page with your name, instructor's name, course title, and date. However, some instructors may not require a title page, so be sure to check with them first.
Include an in-text citation whenever you use a source, whether it's a direct quote or a paraphrase. The citation should include the author's last name and page number(s) in parentheses, for example: (Smith 25). If you're citing a source with multiple authors, list all the authors' names or use "et al." if there are more than three authors.
Create a Works Cited page at the end of your paper. The Works Cited page should list all the sources you used in your paper, in alphabetical order by the author's last name. Each entry should include the author's name, the title of the source, publication information (such as the publisher and date), and the medium (such as print or web).
Pay attention to the details, such as italicizing book titles and using quotation marks for article titles. Consult a reliable MLA style guide if you're not sure about a particular rule.
MLA Style in Brief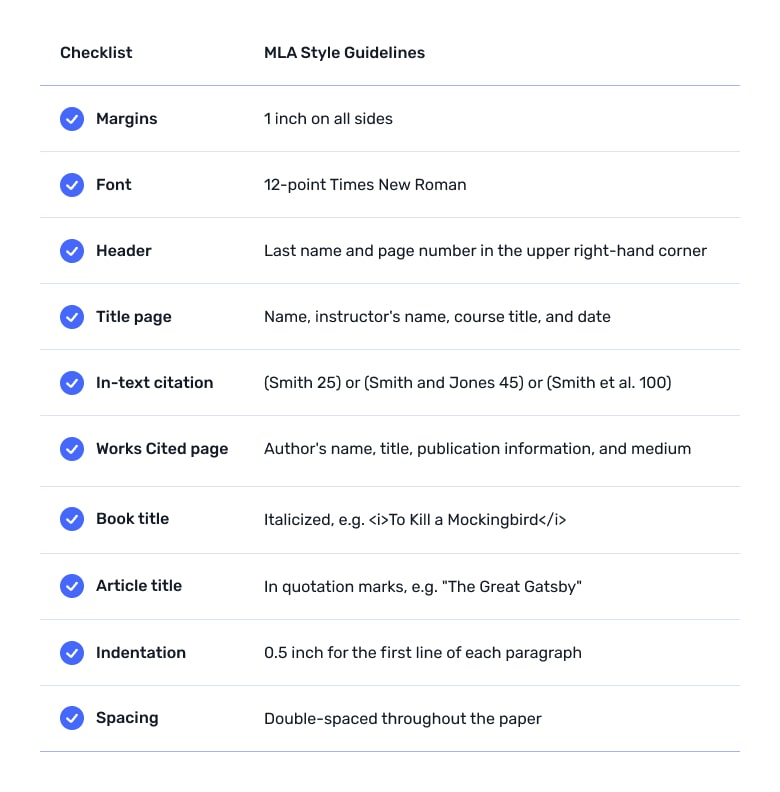 By following these guidelines, you'll be well on the right way to writing a paper in MLA style.
Extra Tips
Here are some nuances of using MLA today:
Familiar historical documents (e.g., the Constitution, Magna Carta) don't require parenthetical referencing.
Due to the rise of electronic documentation, many MLA conventions about page indication don't apply to sources students use. You can indicate the paragraph's number if the electronic source has that enumeration.
You don't need to repeat the author's last name in the parenthesis if you've already mentioned it in the text; put only the page number.
The MLA style doesn't use ampersand; the word "and" should be indicated for multiple authors.
The works cited page should contain the authors' full names; no initials are used.
If you have no time to master all essentials of MLA formatting, use this handy and intuitive MLA citation generator. It will help you format the citations error-free, ensuring that you don't get any essential grade reductions for MLA violations.